On two occasions in 2015, I was given the opportunity to travel to and explore the magnificent Odzala National Park in the north of the Republic of Congo. Founded in 1935, Odzala is a large park, covering about 13,000 square kilometers of rain forest, swamps and savannas. Throughout my years of working in the forests of Gabon, I would hear echoes and stories of the nearby great Odzala, but never had a chance to visit; the closest I came to it was a missed opportunity in 1999.
Here I was 16 years later, boarding a plane from Kigali to Brazzaville. From there we went up north and spent nearly 10 weeks understanding the park to write a book on its history and nature. My father did most of the writing (he is the most experienced one of the two of us) but being the youngest, I had to do most of the walking. A privileged and long relationship of travelling and nature studies has allowed us to understand these regions very well – I could tell him what I see, and he would explain it back to me.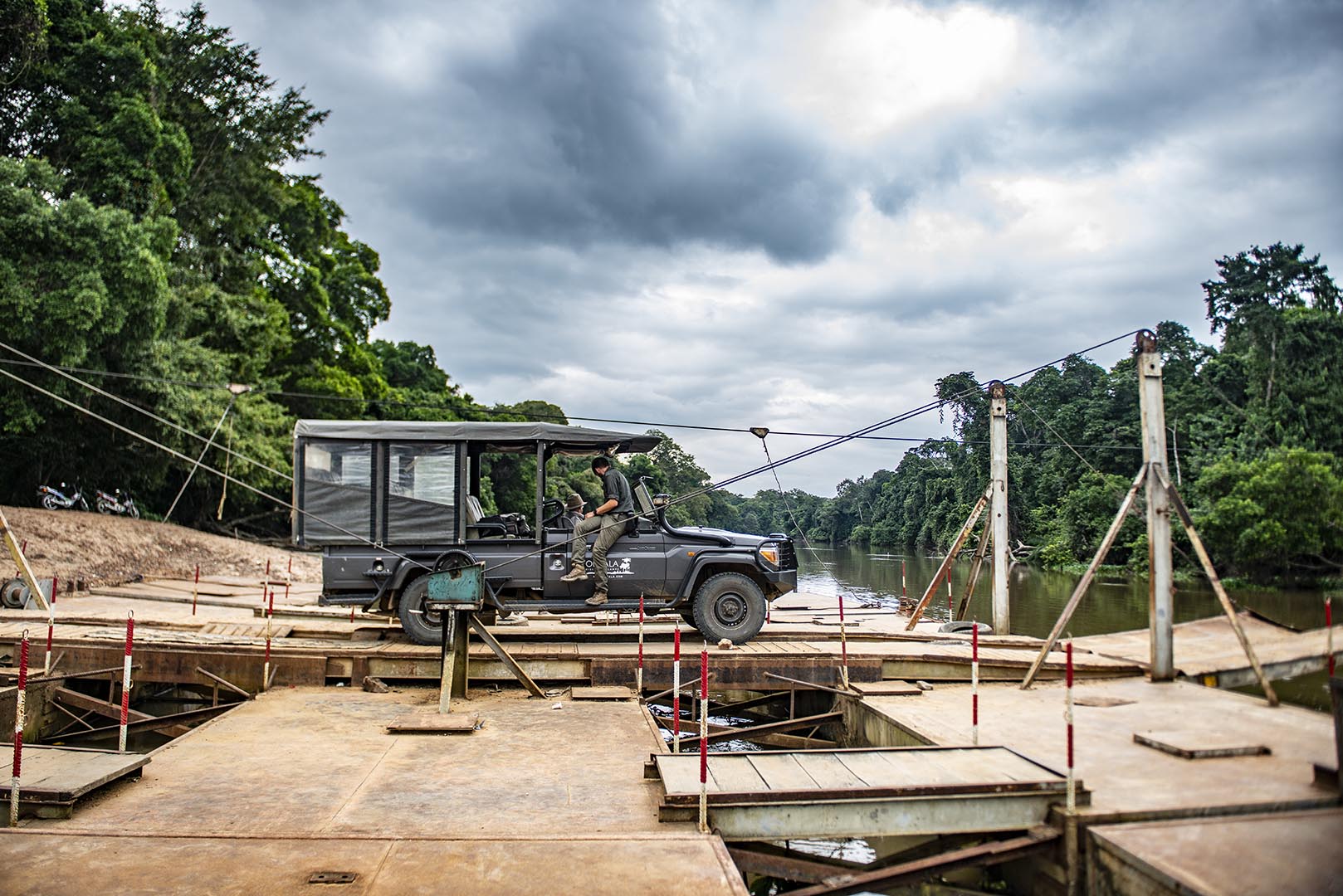 Crossing the rivers at Etoumbi
The termite mounts at the end of the day at Mboko.
Riparian vegetation in the Lekoli meets the Lango wetlands.
I was excited but I had some troubles identifying my expectations. I had seen a few photos of Odzala, and they were always the same: water, elephants and forest. I knew there were large Bais (water clearings in the forests) where animals come to drink and eat, but I didn't know much more. I had read reports, and had relatively good idea of the biodiversity out there, but visually, I didn't know how it was all sawn together. And every single place has its own signature. I was hoping to take a spectacular picture of a Bongo, the largest forest antelope in Africa, but likewise I was worried about the elephants I may encounter while walking. Yes, Odzala has a lot of elephants, possibly the last large population of forest elephants in Africa.
I travelled from Rwanda, a small country of hills and intense human activity and arrived in Brazzaville—an immediate change. Coming down from the plane, the heat and humidity cloak your whole body. But soon, the city let you enjoy her charms, and the cold beer overlooking to Congo River, is a true moment of pleasure.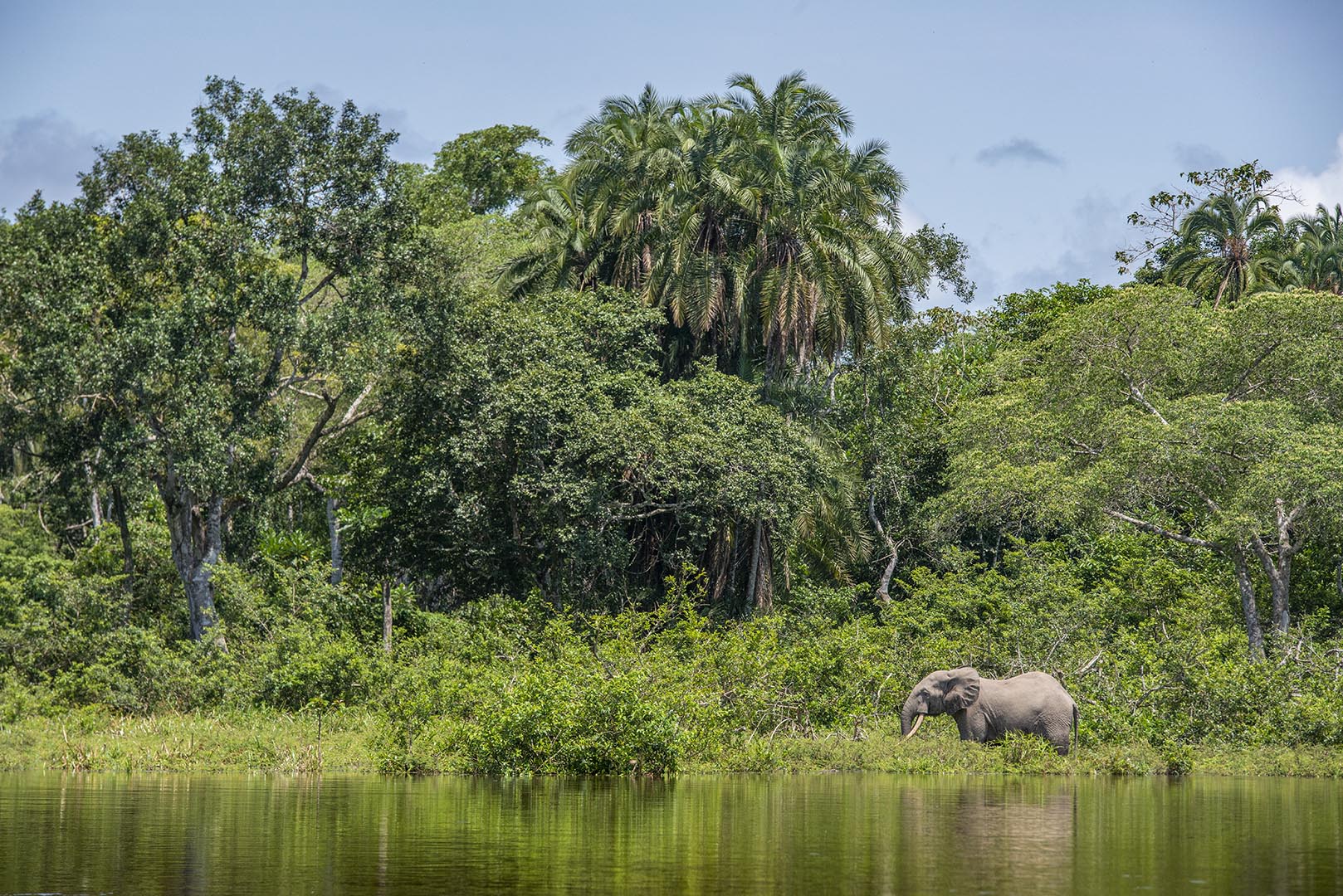 A lone Forest Elephant along the Lekoli river.
Heavy storms above Mboko camp.
A large Uapaca tree and its roots.
Face to face with a Forest Buffalo in the Lango Forests
Red River Hogs in the Lango Forests.
A Blue Duiker escaping our approach in the Lango Forests.
Approaching Giant Forest Hogs silenty, in the Lango Forests.
A female Bushbuck in Lango
The journey truly started the next day and it started early, I woke up at 2:30 am for a departure at 3:00 am sharp. We were driving north to Odzala for approximately 13 hours straight. While it would have been easier to fly half the distance, I preferred taking the road to better discover the entire landscape. The journey was in fact spectacular. For about 10 hours we drove on a straight tarmac road through the Bateke plateau and the Lefini National Park with cliffs, rocks, and canyons, then down to the Cuvette, completely flat with large plains interlaced with forests, small swamps, rivers, and palm trees. Arriving at Etoumbi, we crossed on a ferry to a dirt road for another hour and a half until the arrival at Mbomo, the last village and the entrance of the Park.
From there, the road narrowed to a double track road inside a tall forest. It was beautiful and different from the forests I had visited before in Gabon. These were young, unexploited forests with large, looming trees. The understory was clear in some places while in others, densely made of Marantaceae scrubs, impossible to penetrate. As we got deeper in the park, there were more and more animal tracks on the road, and I could already tell that the next few days were going to be very interesting.
The southern end of Odzala national park is a forest-savanna mosaic, on relatively flat ground. Driving through these habitats was astonishing, with an occasional elephant crossing the savannas from one forest patch to another. We saw groups of the reddish forest buffalo and individual Bushbucks surprised by our passing. Lions used to exist in these savannas but hadn't been seen for the past two decades. Hyenas and leopards, however, were still numerous.
The road ended with a sunset over huge termite mounds, surrounding Mboko camp, my home for the next week. The beauty of this place is overwhelming and I realised I was going to discover Odzala in a very comfortable setting, a unique privilege in the great forests of Central Africa.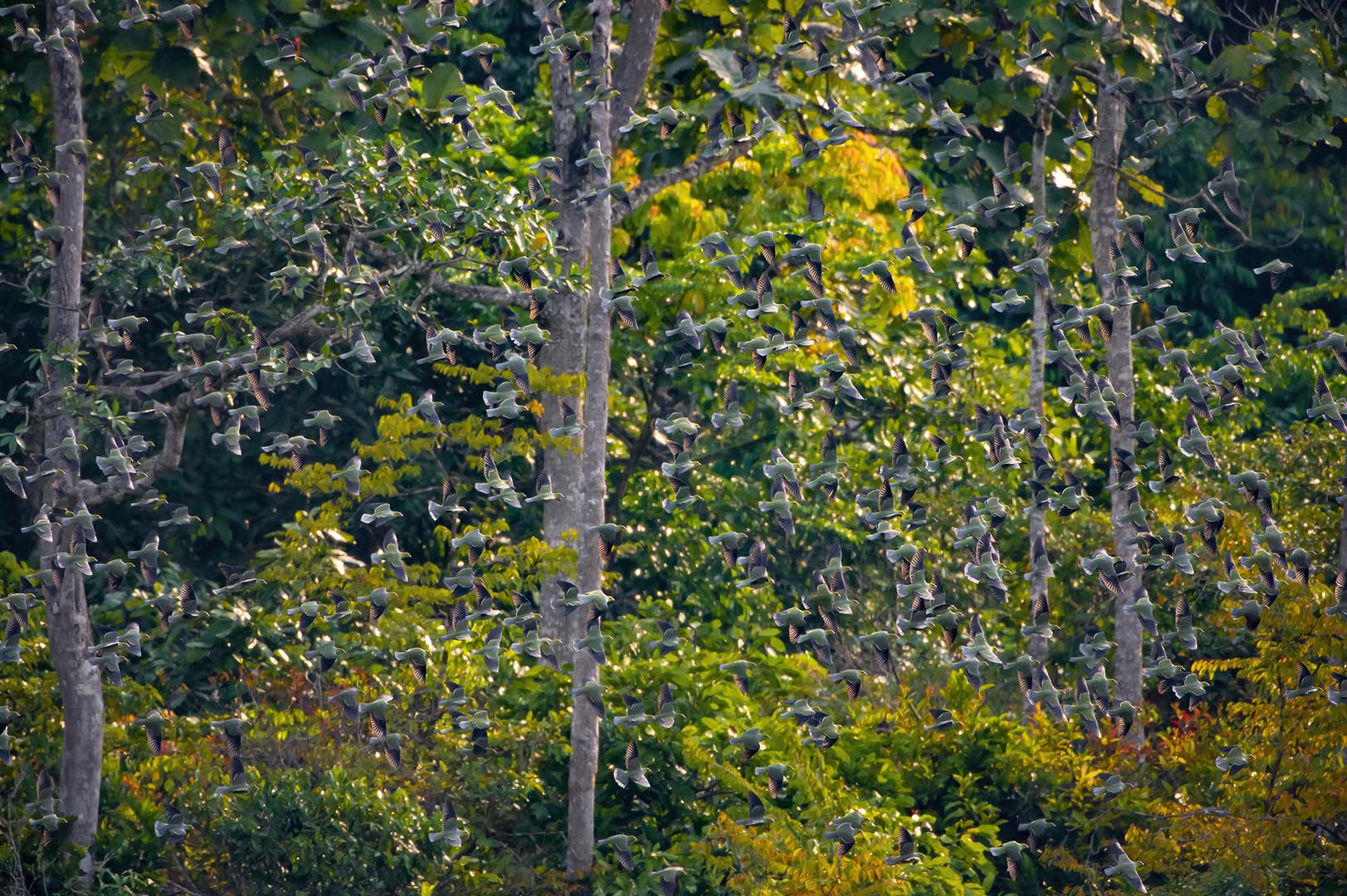 African Green Pigeons (Treron calvus) circling the Bai in Lango
Grey Parrots (Psittacus erithacus) taking off early morning in the Bai.
A Moustached Monkey (Cercopithecus cephus) high in the trees along the Lekoli
A Pygmy Squirrel (Myosciurus pumilio) being
quite tolerant of my presence, around Lango Camp.
The next few days, on foot, I explored the areas on a network of trails and the wildlife was everywhere. We encountered elephants, buffalos, red river hogs, duikers and numerous monkeys. Surprisingly there was not that many biting insects, but was probably just seasonal, and I hoped the next few trips would be as nice. North of the camp, we went up and down on the Lékoli River in a network of water, riverine vegetation and palm forests. There were several monkeys in the trees on the river banks, Black and White Colobus, Putty-nosed Monkeys, Grey-cheeked Mangabeys and others. We heard chimps, far away and I wondered if lowland gorillas ever came this close to the River.
A few days later, I moved to Lango camp, which was perhaps the most beautiful place I had visited in Central Africa. The camp, above the ground by a few meters, opened on Lango Bai, with buffalos and Bushbucks. This place felt and looked like a lost paradise on earth. I knew it existed, I had seen photos, yet I wasn't ready for the sight of the Bai. Arriving there, one could just sit, watch, and take time, allowing the breathtaking view to sink in. This is what the entire Earth must have looked like long ago. At night, elephants came from all corners one by one on their ancient routes, until the night was a just a concert of trumpets and rumblings, making you feel very small. Early morning, I was woken up by two hundred Grey Parrots, and over a thousand Green Pigeons coming from all corners of the Bai to land on the mud ground, and there I realized I was extremely lucky to be here. 
End of part 1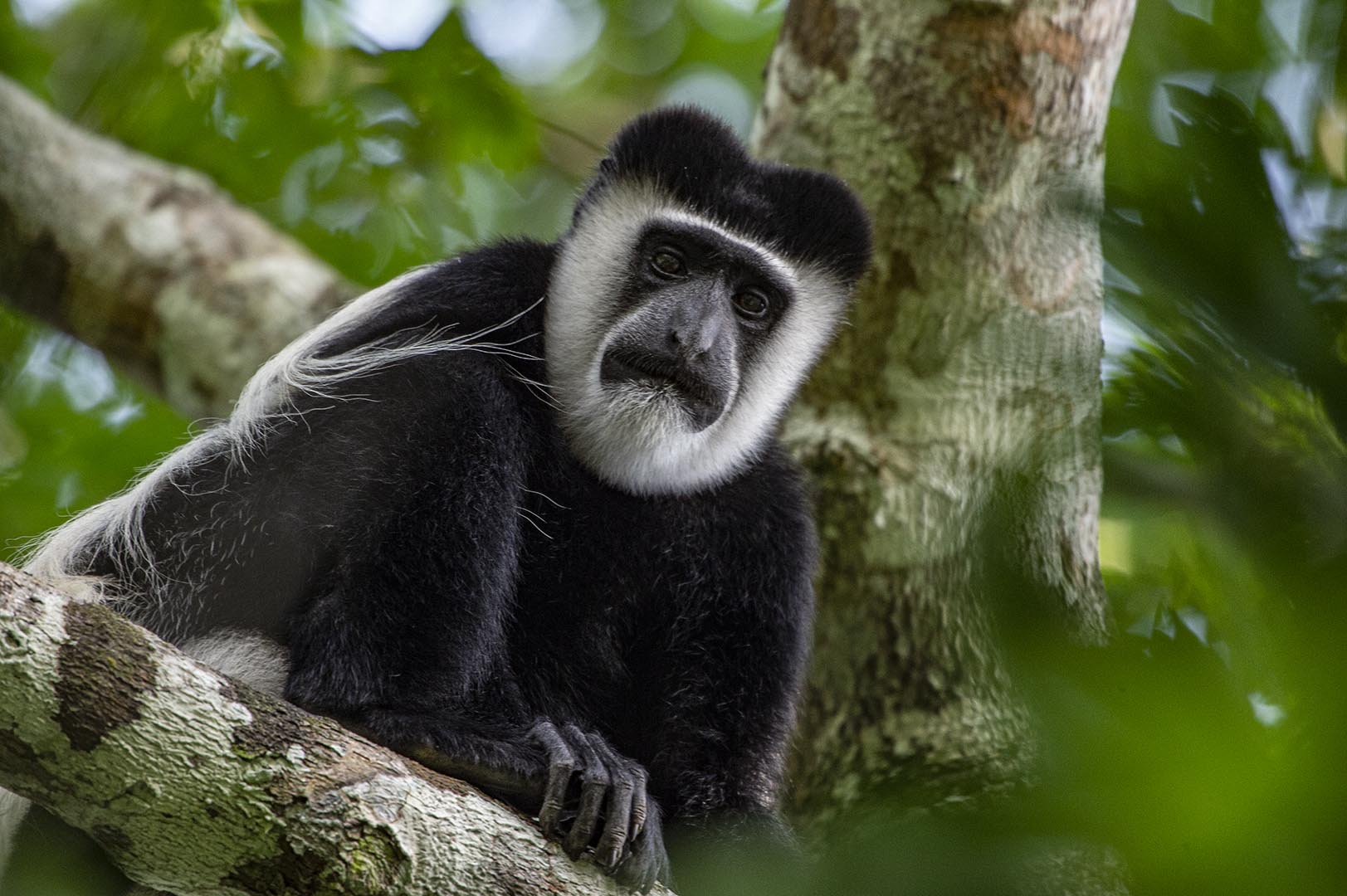 Black-and-White Colobus (Colobus guereza) in Lango camp
The savannas around Mboko.
The end of the day along the Lekoli.