Akagera National Park is a 1,083 km2 protected area located in eastern Rwanda, extending from north to south along the border with Tanzania. The park boasts a diverse range of landscapes, including hills and ridges, grasslands, plains, rocky hills, lakes, peninsulas, and large wetlands.
Established in 1934, Akagera National Park is one of the oldest protected areas on the African continent. Over the past 89 years, the park has undergone several changes, including expansions and reductions in size, as well as significant restoration efforts to address conservation issues.
Currently, Akagera National Park is the only protected area in Rwanda where visitors can experience the region's native savanna ecosystems and the diverse array of flora and fauna they support. Located along the eastern border of the park, the Akagera River marks the largest protected wetland in East Africa, featuring seven large lakes and numerous smaller ones.
Managed by African Parks, Akagera National Park has become a popular tourist destination in Rwanda, offering three campsites, four lodges, and the chance to observe the "Big 5" (elephant, buffalo, leopard, lion, and rhinoceros) as well as a variety of other wildlife.
Here is a visual introduction to the park.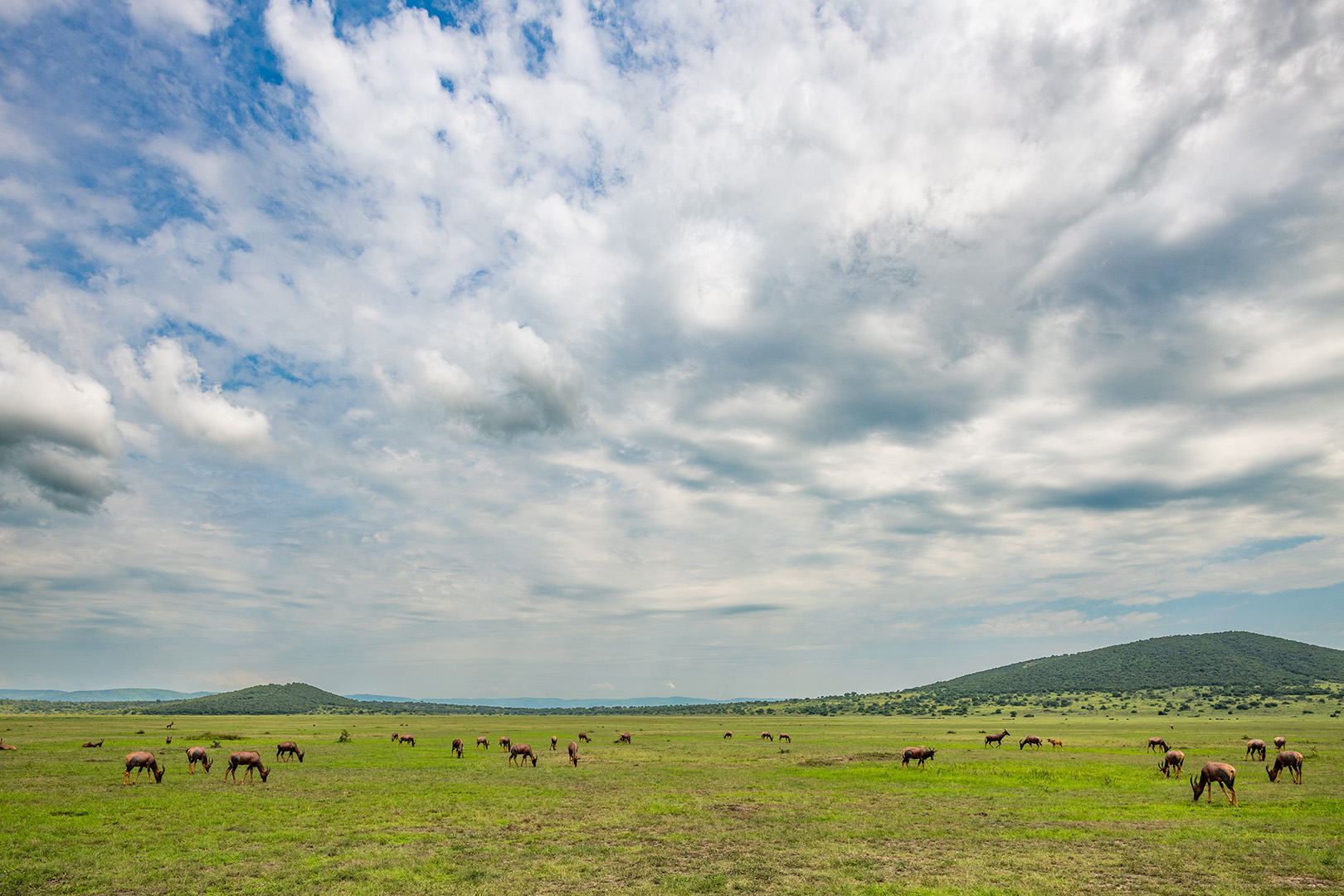 Kirara plain with grazing Topis.
Erosions on the Rurama peninsula.
Fresh young grasses on the Munkerenke between Mutumba and Kandaro.
Rocky outcrops north of Mutumba.
A Nile crocodile on Nyabihoro island in Lake Ihema.
Bidens granti covering large patches of grassland on the Kandaro (Kajumbura).
Zebras in recently burnt woodland
Exceptional high water levels on Kirara plain in 2020.
Flowering thistles (Echinops) in tall grass on the Rwisirabo.
The typical september color palettes of Akagera, here on the Kitabiri ridge. 
The white rhino born in Akagera National park. 
Dry Albizia amara woodland on Nyampiki peninsula.
Early morning mammal assemblage in Muhana plain in 2010.
Lake Hago, seen from Nyamabuye.
Fresh burns along the lakes close to Birengero.
One of the potential 100 leopards of Akagera National Park, here along Kageyo.
Zebras on the northern ridges.
Heavy storms coming from the southeast over Lake Hago.
Fresh new leaves a few weeks after fires on Rwisirabo.
A few giraffes in the wooded lower hills of the southern part of the park.
Bidens granti can flower throughout the year but will peak with massive bloom in may.
A lone Vachellia sieberiana on the summit of the park, Mutumba Hill.
A zebra at sunset on Mutumba Hill.
One of the second generation males since
their reintroduction in Akagera.
Sunrise over Kirara plain, in the north of the park.